Bless 100,000 Needy Children
Every year, SEESHA celebrates Christmas season by gifting 100,000 new clothes to children from downtrodden communities, orphanages and disaster-hit regions.
Clothing is one of the most basic needs for mankind. When it comes to children, hailing from families where they cannot afford new clothes, we see more than just a basic physical need; we see a socio-emotional longing. For such children, their worn out, and sometimes torn clothes, embody them with a lack of confidence and drives them away from seizing opportunities that may bring them attention.
Every year, SEESHA seeks out 100,000 such children and presents them with a set of new clothes to help them face the world a little more confidently.
We invite you to join us in gifting the underprivileged children – the much needed warmth and love wrapped in new sets of Clothing, this joyous christmas season! With a small contribution of just $12 for a new set of clothes, you could have the privilege of bringing happiness and dignity to a needy child.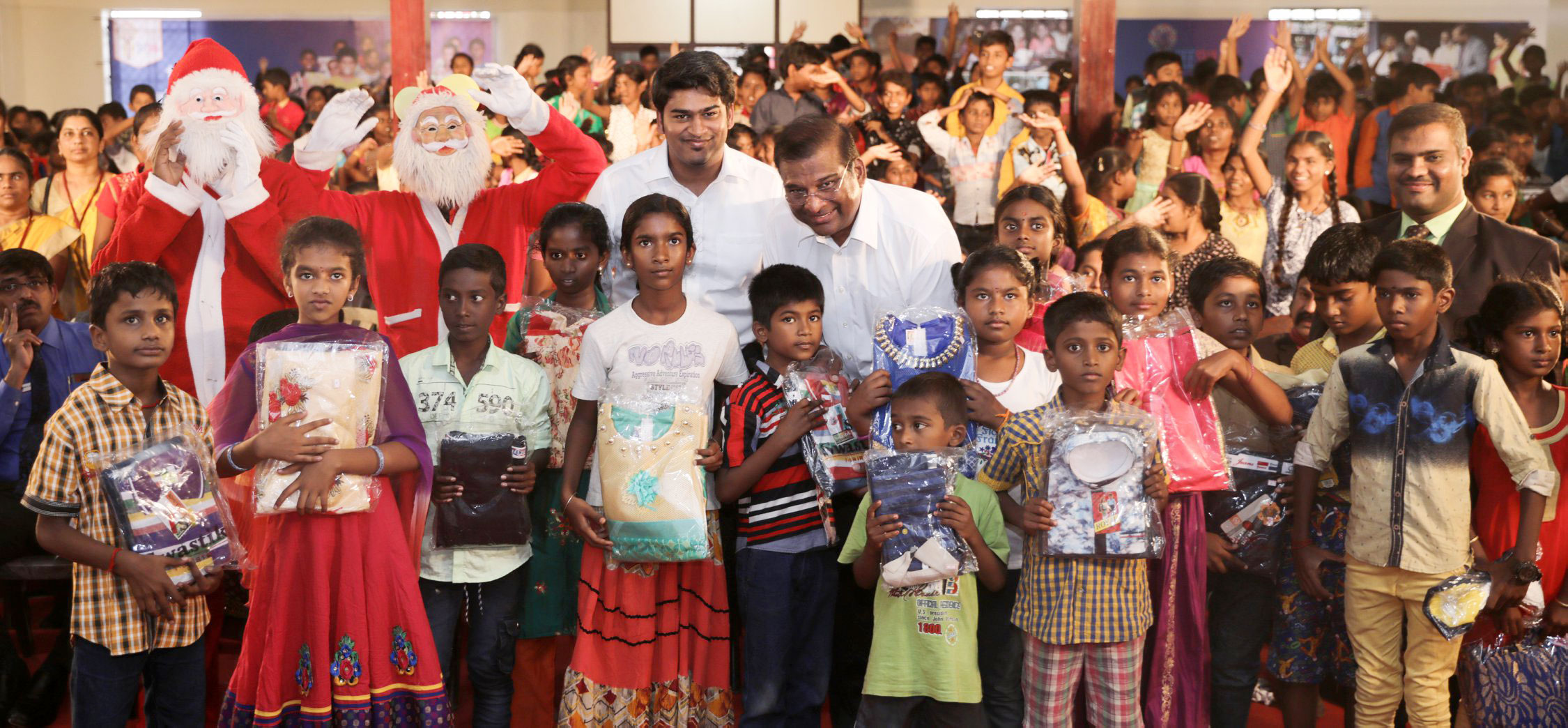 New Clothes Distribution Event 2021
Christmas Season are truly joyful when we celebrate them by giving the light of love and hope to those who need it the most. To celebrate the joy of giving with the less privileged in 2021, SEESHA has gifted new clothes to several thousand children in need across the country, bringing smiles and making the season memorable for the deprived ones. For the new clothes distribution for 2021 at SEESHA, our project teams have organized community-wise handing out events in order to maintain due safety protocols. Here are a few highlights of the celebrations held at different project locations:
Chennai
On the occasion of the 2022 New Year's blessing meeting at Chennai Vanagaram JC Campus, SEESHA's Founder Dr. Paul Dhinakaran, Sis. Evangeline Paul Dhinakaran, Bro. Samuel Dhinakaran, Dr. Shilpa Samuel and Sis. Stella Ramola, gifted new clothes to several underprivileged and differently-abled children to help them celebrate the New Year with joy.
New clothes were distributed to over 12,000 child beneficiaries across project areas, support centres and other beneficiary groups in Chennai during this period.
Coimbatore
In association with the Karunya Welfare Society – Karunya Nagar, SEESHA launched the new clothes distribution event in Coimbatore in December 2021, during the Christmas week. Children from tribal families, visually-challenged children, children with physical & intellectual challenges, and orphaned/semi-orphaned children were benefited.
Community-wise new clothes distributions were arranged for the benefit of the tribal children from hamlets around the Siruvani forest range - Coimbatore.
New clothes were distributed to more than 5270 children in need across CAP project areas in Coimbatore in 2021.
Cuddalore
For many years, SEESHA has been supporting children living with HIV/AIDS with monthly nutritional supplements, scholarships, educational incentives, and an annual gift of new clothes to care for their physical and emotional wellbeing amidst their health challenges. Over 120 children living with HIV/AIDS in the Cuddalore district received new sets of clothing from SEESHA in 2021.
More than 2100 children studying at SEESHA Child Development Centres, children of vocational training centre beneficiaries and children from families residing in the disaster-hit regions of Cuddalore received SEESHA's new clothes in December 2021.
Ranchi, Vyara, Bengaluru and other Stand Alone Project (SAP) locations across India
Thousands of children from underprivileged families studying at SEESHA Child Development Centres, children of vocational training centre beneficiaries, children from urban slums, rural, tribal villages and disaster-hit regions, children who lost one or both of their parents during the Pandemic, children who are physically/intellectually challenged, and children living on the streets in these project locations received the gift of happiness in the form of new clothes from SEESHA in 2021.
Support us to bless 100,000 needy children in various parts of India with new clothes;
the cost of clothing per child is $12.
bless 10 needy children with new clothes for $120.
bless a child with good education and daily meals for $400 a year.
bless a poor widow with a sewing machine for $500 to help her build and sustain her family.
bless a physically challenged person with a Tri-wheeler motorcycle to move around for $1750 who otherwise would have only dreamt about moving around.
Your help of any amount will surely be a blessing in the lives of these precious people and put a smile on their face this Christmas season.